When the fabulous Dawn from Rhyming with Wine nominated me to participate in Wayfair's #BlogItForward kindness project, I had a bit of a panic as to what good deed I could actually do by the 31st January deadline. Then I remembered somethung that I've been thinking about for a while.
When it comes to acts of kindness, Mrs Lighty is often full of inspiration but short on the organisation required to pull it off. So #BlogItForward was the perfect kick up the backside I needed!
During the month of December Wayfair raised over £2600 and in January they want to do even better. Here's how it works:
Spread positive cheer by doing a good deed, no matter how big or small. Share your good deeds with Wayfair, then challenge two of your favourite blogs to do the same. For every #BlogItForward act of kindness they find before January 31st, Wayfair will donate £50 to Habitat for Humanity, an organization that helps the poorest and most vulnerable people lift themselves out of poverty by partnering with them to build their homes and communities. You can find out more about this project by clicking the Wayfair badge below: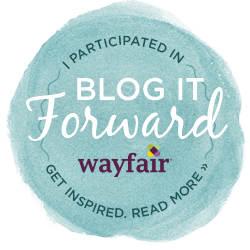 I thought for Mrs Lighty's act of kindness I would send some happiness in the post. Firstly, a little something (a magazine, card and some chocolate) to Aunty Tempy, who has just finished her last radiotherapy session. I meant to send this little something at the start of her treatment, but I just wasn't organised enough. Instead, I hope it will go a little way towards her ongoing recovery now that her treatment has finished.
Secondly, as a former recipient of the Paperdashery's #MamaMail, I've been meaning to go back for sometime and – now that I'm feeling a bit more confident as a mummy – sign up to send some #MamaMail of my own to help encourage and support a fellow new mummy…so that's exactly what I've done!
Obviously to #BlogItForward, I need to nominate two fellow bloggers, and I do so as follows:
Abi of Something About Baby: now that she's committed her pregnancy and birth story to her blog, I know she won't mind mixing it up a bit!
Azaria of Being Mrs Lynch: as her little girl is a few months older than Baby Lighty, I find myself referring to her blog a lot, to see if what we're going through is quite normal and to check out what I've got in store next!!
Abi and Azaria, If you've both got time before the 31st January 2016 deadline, I'm looking forward to seeing how you both #BlogItForward!
Sending happy vibes and kind thoughts to all my readers this January,
Mrs Lighty xxx